Stephan Albrechtskirchinger has been the director of the EUI's Communications Service since 2011, before which he was a senior consultant at Holloway & Associates. He has worked in communications and public relations across Europe, including posts at the World Energy Council and the EDF Corporate University.
Bernard Hoekman is the Director of the research strand "Global Economics: Multilateral Cooperation and Policy Spillovers" at the EUI. He has held various senior positions at the World Bank, including Director of the International Trade Department and Research Manager in the Development Research Group. He has published widely on trade policy and the global trading system.
Pasquale Ferrara is EUI's secretary general. He was head of the analysis and planning unit at the Italian Ministry of Foreign Affairs until 2011. He served as chief advisor at the Italian embassy in Washington DC until 2004. His diplomatic career started in 1984 and took him to several countries, including Chile and Greece.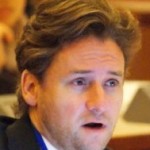 Alexander H. Trechsel is a professor of political science and the first full-time holder of the Swiss chair in federalism and democracy at the EUI. He is also a faculty fellow at Harvard University's Berkman Center for Internet and Society. He is co-director of the European Union Observatory on Democracy (EUDO), part of the EUI's Robert Schuman Centre for Advanced Studies.
Anna Triandafyllidou is Professor at GGP, where she coordinates the Research Area on Cultural Pluralism. Previously, she was part time professor at the RSCAS, she was Senior Fellow at the Hellenic Foundation for European and Foreign Policy. She serves as national expert and evaluator of research for several national and international projects and networks and agencies.
J.H.H. Weiler is President of the EUI. Previously he served as Professor of Law and Jean Monnet Chair at Harvard Law School and subsequently as Director of the Jean Monnet Center at NYU School of Law. He is Editor-in-Chief of the European Journal of International Law and the International Journal of Constitutional Law.